Open Workshops and Events
Public sessions of Retail Multiunit Leadership (RML) and Retail Store Leadership (RSL) are offered periodically throughout the year.
Pricing Information
RML: $975 per participant
RSL: $750 per participant
SSL: $850 per participant
Includes: All workshop materials, online DiSC® style survey, professional facilitation, and 90 days of mobile-enabled microlearning reinforcement
Public workshops are announced on this page. Contact us to get on our list to be notified when new workshops are added.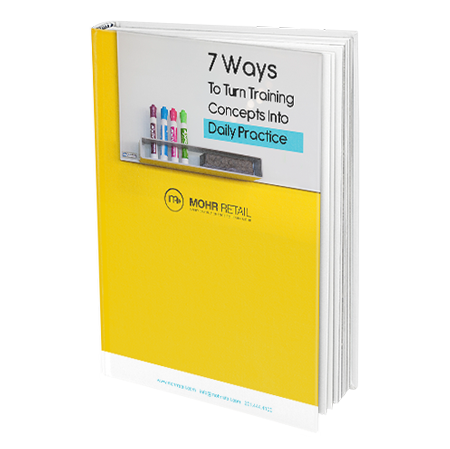 eBook
Our eBook outlines 7 practical reinforcement strategies to help your participants internalize the learning and turn it into daily practice so they can get sustained performance results.
One of our most popular courses, offered as a public workshop for the first time
With more fluid reporting structures and more support center teams being led from a distance, support center leaders are facing new challenges as they perform the triple roles of "Do," "Manage," and "Influence." vSSL builds the interpersonal skills they need to develop their leadership presence and improve departmental productivity with co-located as well as remote teams while collaborating more effectively with other departments in the supply chain.
This interactive, scenario-based program will equip your support leaders—including buyers, planners, accounts payable, tax audit, merchandising, advertising, web and IT support, legal, and other support departments—with practical strategies based on our research of retail support leaders navigating today's complexities.
Contact Us Today
We develop the interpersonal skills that get results for retail businesses. Let us put our experience to work for you. Simply fill out the form to the right or give us a call, and we'll help you determine the right strategy and next steps to meet your needs.