Open Workshops and Webinars
Public sessions of Retail Multiunit Leadership (RML) and Retail Store Leadership (RSL) are offered periodically throughout the year.
Pricing Information
RML: $975 per participant
RSL: $750 per participant
SSL: $850 per participant
Includes: All workshop materials, online DiSC® style survey, professional facilitation, and 90 days of mobile-enabled microlearning reinforcement
Public workshops are announced on this page. Contact us to get on our list to be notified when new workshops are added.
Get More From Your Training Investment
The Keys to Continued Knowledge Growth and Retention
Tuesday, May 9 at 11:30 AM EDT
According to new research by MOHR Retail's learning partner Axonify, 37% of retail managers and 25% of associates say a lack of employee training is impacting their day-to-day work. Learning and development is critical for improving engagement, retention, and the customer experience. Understandably, retailers want to make sure they're getting the most from the money and time they invest in training.
Join us on May 9th for an interactive webinar moderated by MOHR Retail CEO Mary Beth Garcia and featuring learning guru JD Dillon, Chief Learning Architect at Axonify and author of "The Modern Learning Ecosystem."
JD will share proven training approaches based on scientific research about how people learn and built for how employees work. He'll also answer your questions about what it takes to make learning stick and how to ensure people apply the skills back on the job on an ongoing basis.
Join us to explore:
Why it is important to have multiple touchpoints and engagement with participants along their learning journey
The role of the boss in reinforcement and ensuring training sticks
7 ways to achieve long-term ROI on your training investments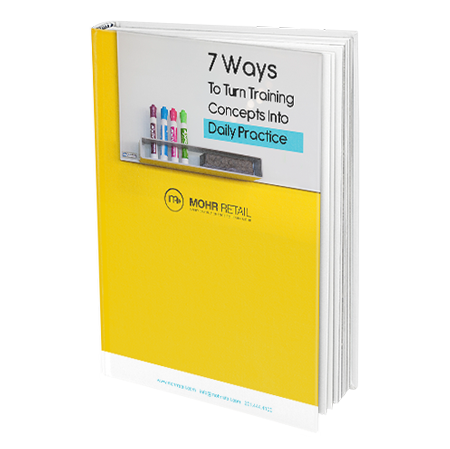 eBook
Our eBook outlines 7 practical reinforcement strategies to help your participants internalize the learning and turn it into daily practice so they can get sustained performance results.
Contact Us Today
We develop the interpersonal skills that get results for retail businesses. Let us put our experience to work for you. Simply fill out the form to the right or give us a call, and we'll help you determine the right strategy and next steps to meet your needs.