Are Your Sales Associates Ready for Today's Customer?
In today's retail environment, it's not uncommon for consumers to have more information at their fingertips than your sales associates do. To turn showroom browsers into in-store buyers, your salespeople's interpersonal skills have to be as sharp as their selling skills. Our Retail Sales Training program helps your sales team build the insight necessary to understand what's most important to individual customers, and improves their ability to counter objections with the specific benefits that matter most to consumers.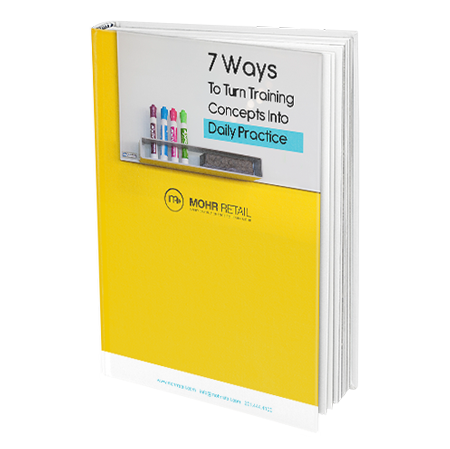 On-Site/Virtual Classroom
Retail Sales Training program, delivered at your location or in a virtual classroom, by our professional facilitators. Based on 6 Core Selling Skills, this program is always customized to customer's individual needs. Can include consulting to create new modules that address your everyday situations, tailoring written exercises to reflect your offerings, and/or shooting video in your stores.
eBook
Our eBook outlines 7 practical reinforcement strategies to help your participants internalize the learning and turn it into daily practice so they can get sustained performance results.
Enhance company-wide capabilities by equipping your facilitators to deliver Retail Store Training for your organization. Certification workshops delivered by our professional master facilitators for up to 6 candidates. Each participant receives full sets of facilitation materials for all RST modules.
"The MOHR Retail team has been a pleasure to work with over the years. They truly understand the day-to-day challenges of the ever-changing retail environment. I certainly appreciate their partnership in our training and development efforts for our retail district managers and store managers at James Avery."