How are you rethinking your national retail meeting?
No one's bringing huge groups together right now for national retail meetings, but the messages you communicate in this moment—through Zoom, daily video calls, emails, teleconferences, or a combination of all of the above—have never been more critical.
Get More Value from Your Virtual Retail Meetings and Communications
Both our Retail Multiunit Management (RMM) program for retail district managers and our Retail Store Leadership (RSL) program for store leaders are available for virtual delivery and include tools and strategies for reinforcing these important messages, building a spirit of compassion and collaboration, and maintaining a culture that keeps people engaged and self-accountable.
Modular, customizable, and available on virtually any platform, these programs will supplement your messaging with the essential interpersonal skills your retail organization needs to not only survive through the current crisis but also restart the business engine as seamlessly as possible.
How Retailers Communicate Internally Now Matters More Than Ever
With so much turmoil and uncertainty in the world at large and in the retail industry in particular right now, your leaders are facing challenges and complexities like never before. From leading change to getting commitment to new initiatives to coaching in real time, our virtual retail training options will equip your managers with practical, powerful tools and skills they'll use every day in a variety of ways to create ongoing results.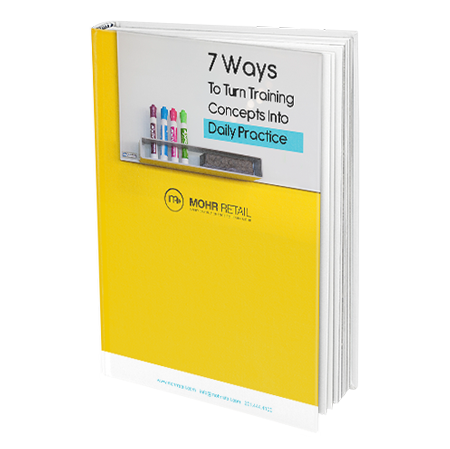 eBook
Our eBook outlines 7 practical reinforcement strategies to help your participants internalize the learning and turn it into daily practice so they can get sustained performance results.
"Each step in the process was very efficient. Mary Beth [Garcia] and her team were very hands on and helped to make sure my team had everything they needed."
Dynamic Speakers and Facilitators Who've Walked In Their Shoes
Our experts come from the world of retail, so they bring real-life knowledge, experience, and insights to every engagement. Whether you need an inspiring, thought-provoking speaker, an engaging facilitator, or both, all of our speakers are skilled at delivering high-impact, highly relevant virtual training, communications, and coaching. Portions of our popular programs can be tailored to your needs, and an Everything DiSC® behavioral survey can also be included for each participant.
"Why did we choose MOHR? QUALITY. MOHR gets retail. They speak the language, they understand the real-life issues, and they have instant credibility. The training programs are rigorous in design, and the examples and exercises are high quality."