Interpersonal Skills That Give Leading Retailers the Edge
We build the critical, people-to-people skills proven to drive results in the retail industry. Based on our national industry research and the in-the-trenches experience of our team of experts, our retail training programs and solutions create lasting behavioral change that creates measurable results.
From the sales floor to the executive office, from supply chain logistics to the buyer's negotiation table, we give your people the real-world learning opportunities and support to give your business the edge over your competition.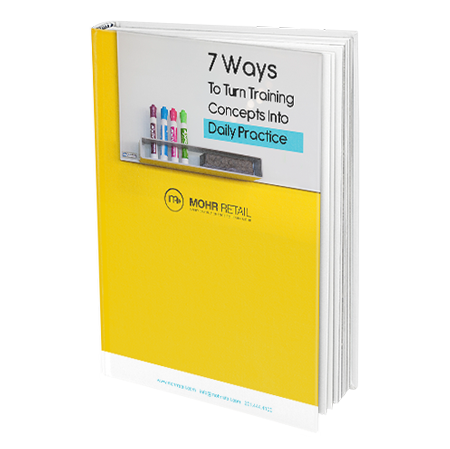 Move forward with confidence. Unlike other training firms that have a "retail" division, our retail training programs are field-tested and specifically designed for retailers, developed from our firsthand experience with executives, management and employees on the front lines of sales, management, and customer service. We didn't 'add' retail, we are retail.
eBook
Our eBook outlines 7 practical reinforcement strategies to help your participants internalize the learning and turn it into daily practice so they can get sustained performance results.
One size doesn't always fit all. If you're dealing with a specific business issue or highly customized training requirement, count on the consultative expertise of the most experienced retail training firm on the planet to help you tackle your business and learning challenges.
"The MOHR Retail team has been a pleasure to work with over the years. They truly understand the day-to-day challenges of the ever-changing retail environment. I certainly appreciate their partnership in our training and development efforts for our retail district managers and store managers at James Avery."