Custom Retail Training Programs
We often tailor our retail training programs and facilitation sessions so that participants will quickly recognize their own company's branding, from checklists to company forms. Because this makes the learning experience highly relevant and applicable, such tailoring increases the likelihood that participants will use what they've learned back on the job.
Many of these changes are provided at no additional cost to you. That said, your company's branding standards may require a completely customized program. Taking the proven learning designs our retail training programs are built on, we can develop entirely new material just for your learners.
For us, true customization means going beyond logos and binder colors. It's capturing your organization's specific cultural differences and brand uniqueness. Our consultancy team, project managers, print production managers, and video and graphics experts can develop custom modules from start to finish, allowing you to leverage our strengths and deep understanding of the retail business to create training programs that are uniquely yours.
Custom projects include a wide range from research to uncover root problem issues around processes to succession planning needs. Online surveys, data analysis, field research, interviews, and testimonials are various tools and activities we use to meet the business need.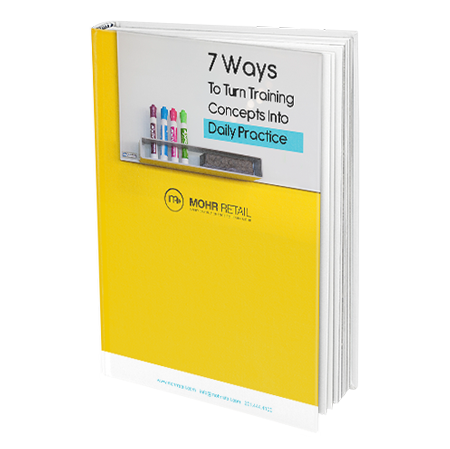 eBook
Our eBook outlines 7 practical reinforcement strategies to help your participants internalize the learning and turn it into daily practice so they can get sustained performance results.
Cost: Varies, based on scope of customization.
Contact us to discuss your learning objectives and explore custom development options.