Develop Essential Store-Support Leadership
Retail management training is often focused on store and district leadership. But what about the other leaders in your organization, like distribution center (DC) managers and home office supervisors?
While there's no shortage of leadership development programs on the market, retail management is very different from the typical corporate environment. Management training without the context of retail reality doesn't have the same impact and won't have the same result.
Make sure your Directors, DC managers, AP supervisors, buyers, tax and audit managers, Advertising, and all other support area leaders have the collaborative skills to serve the business, the store, and the customer. Based on research we conducted with top US and Canadian retail companies, Store Support Leadership (SSL) is retail management training that delivers the critical principles, skills, and strategies your support leaders need.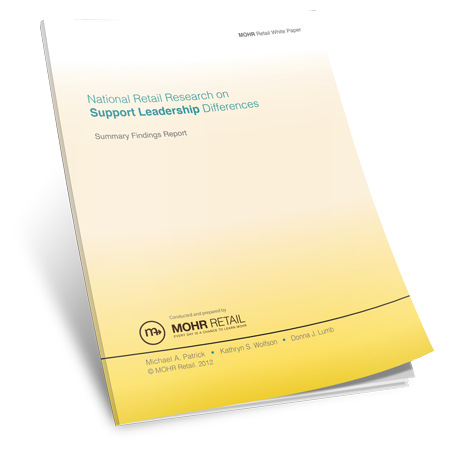 On-Site/Virtual Classroom
Retail support management training in half-day application modules chosen by you from our retail menu of six core modules, delivered by our professional facilitators either at your location or via virtual classroom delivery. Includes 15-minute Everything DiSC® behavioral survey for each participant. Also includes SSL+, a 90-day mobile-enabled game-based microlearning app for ongoing learning, reinforcement, and application.
Research
Our national retail research study reveals leadership challenges and critical development strategies for VPs, directors, category managers, DC managers, AP supervisors, tax and audit managers, and a variety of other retail support leaders.
Enhance company-wide capabilities by equipping your facilitators to deliver Store Support Leadership for your organization. Certification workshops delivered by our professional master facilitators for up to 6 candidates. Each participant receives full sets of facilitation materials for all SSL modules.
"The biggest change I have seen is our willingness to dig beneath the surface of our vendor relationships. I can see an increasing trust level between us and some of our major partners. Changing culture is an arduous process, but slowly and surely, we are beginning to see the needle move."