Trust the Consulting Team That Knows Retail Best
When it comes to developing critical skills and sustaining new behaviors, dealing with time and resource constraints can be a challenge for any business. But for the retail industry, dealing with time and resource challenges can be even more complicated, with even greater impact on business.
We know. Our team has been there, handling the juggling act of turnover, staffing for peak seasons, scheduling, dealing with changing consumer expectations and economic conditions, and equipping leaders and associates for flawless execution in the store—all while managing limited budgets.
These are very real barriers to getting retail training programs and initiatives off the ground. But that doesn't mean you should settle for standard operations and subpar results.
Your Objectives Come First
Our consulting approach is simple. We start by learning your objectives and the challenges you face. We help you put an implementation plan together that's realistic, achievable, and creates tangible impact.
Sometimes, rolling out a retail training program isn't the first step we recommend. If your company has undergone a major shift in priorities or experienced a merger or acquisition, you may need to take stock of your human operational resources supporting that change.
Whether it's an organizational assessment, competency model development, review of internal training and recommended revisions, and/or creation of a learning agenda that ties to your overall business strategy, our seasoned, retail consultants have an answer.
Similarly, a change, or contemplated change, in executive leadership may engender close, one-on-one consulting on issues like succession strategies. Again, we stand ready to provide answers within both a corporate and a retail context.
With your objectives and outcomes in mind, we'll help you make smart decisions about how you invest your time and resources.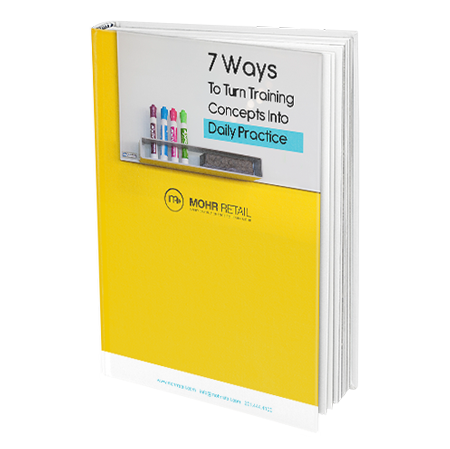 eBook
Our eBook outlines 7 practical reinforcement strategies to help your participants internalize the learning and turn it into daily practice so they can get sustained performance results.
Custom Program Development
For more than 40 years, retailers have counted on our proven methods and experienced instructional design team to develop interpersonal training that gets results. If you need scenarios or specific skill-building not addressed by an existing retail-ready training program, you can still tap into our experience and expertise.
"I found the RNS training session very helpful. The session provided valuable insights in many different ways. First, it helped me understand the makeup of my management style and how I needed to adjust to maximize the talents of my team. Understanding what makes them tick and what motivates them will help me get the most of their talent. Second, it allowed my team to better understand me. This will lead to more productive meetings and hopefully an even better working relationship."