Why Retailers Choose MOHR Retail
Our Business is Retail Learning and Talent Development
Since our founding, retailers of all categories have relied on MOHR Retail's training programs to fuel their success—because they know that we know retail like no one else. This isn't a facet of our business; retail is our business, just like it's yours.
We've been there, from the twists and turns of the markets and the rapid shifts created by fluctuating economic cycles and changing consumer preferences to the rise of ecommerce, omnichannel, and socially connected shoppers. We know that, through it all, your people make the difference. Our focus is on helping them make a positive impact every day for your customers and your business.
The MOHR Retail Difference
Expertise in dynamic and proven learning methods. Real boots-on-the-ground retail experience. Deep understanding of the critical people-to-people skills that make or break a retailer's success. These aren't qualities you'll find in most companies. But they're part of the MOHR Retail DNA.
Here are a few of the many reasons retailers choose MOHR Retail as their talent development partner:
A team steeped in retail
We've been in your shoes. Our leadership, design, business development, facilitation team members and coaches have all achieved successful careers in retail and can share specific examples with and empathize with your participants.
Relevance and resonance.
We put in the work to get to know our clients before we ever meet with their teams, and that's why every training experience with MOHR Retail will look and feel like your organization and your culture. Our process includes working with you to identify brand standards and images as well as language, values, strategic objectives, and other key priorities that will influence the learning experience. We spend the time because we know this is a critical step in getting buy-in and fostering behavior change. And participants see the difference: Class engagement scores for our training programs are consistently 85% or higher, with participants saying the experience was very worthwhile or worthwhile and 99.5% of participants would recommend our workshops to others.
Proven, practical tools for leadership and relationship-building
All MOHR Retail leadership training programs include the Everything DiSC® on Catalyst profile, a powerful tool that helps participants understand themselves, how they communicate, and how to adapt to the styles of others to be a more inclusive, effective leader.
An approach rooted in brain science for knowledge retention and growth
At MOHR Retail we truly believe training is a process not an event.  One-time events don't change behavior. That's why our training experiences include app-based microlearning (before during and after) the workshop to reinforce skills and strategies in a format that fits within the cadence of the retail workday. In just three minutes a day, your team members will be able to sharpen their skills and immediately apply what they learned to the job. The gamification and leader board design keeps people engaged, with organizations reporting 15-25% knowledge growth, post-training.
A holistic view of retail talent development and succession
Our core "role of the leader" curriculum addresses the skillsets and challenges of retail leadership — from emerging leaders through the C-Suite — to support your leadership pipeline and create a common leadership language and consistency in performance management. With a full suite of modules, courseware, and other learning content, we help you strengthen every level, resulting in more opportunities for internal promotions and sustainable growth.
An investment in your team's success
We offer free, one-hour kick-off meetings for all virtual deliveries/implementations to provide an opportunity for your team to meet their facilitator prior to the first training session and to give your internal sponsor the opportunity to set expectations. These kick-off sessions are valuable opportunities for you to reinforce your commitment to investing in and growing your people.
Every day is truly a chance to learn MOHR. Get in touch with us to discuss how we can help you develop the results-driven retail leaders and teams your organization needs to thrive in an era of constant disruption.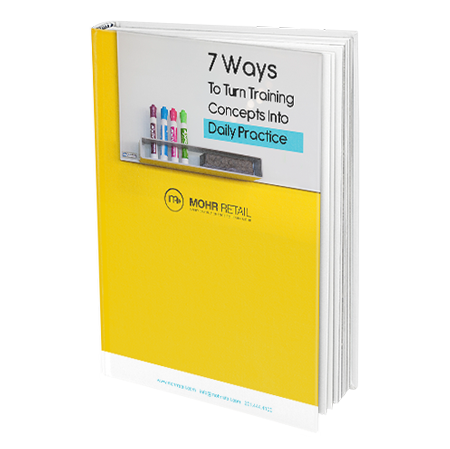 eBook
Our eBook outlines 7 practical reinforcement strategies to help your participants internalize the learning and turn it into daily practice so they can get sustained performance results.