Retail Training that Gets Results
From higher motivation and engagement to increased sales and profitability to delivering world-class customer experiences, retailers partner with us to build the strategies and behaviors that enable them to transform their cultures and achieve their mission-critical goals.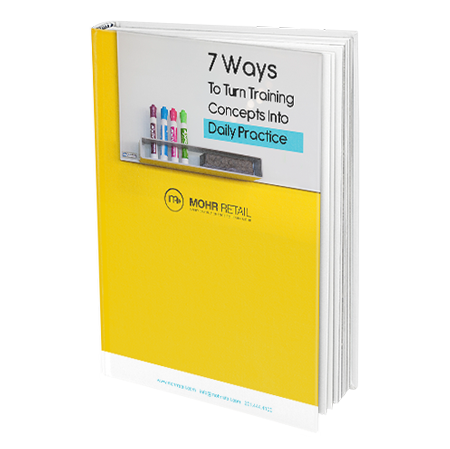 Enhancing Retail Management Strategies and Behaviors, from the Field to HQ
This large international retailer with a unique business model had identified a need to enhance the communication and management skills of its field-based retail managers and supervisors. Partnering with MOHR Retail on their retail management training has helped the organization build consistency in the strategies, behaviors, and expectations of management across the organization, from the field to the headquarters. This retailer has documented a number of positive business outcomes as a result of working with us, including:
Increased competence in communication and management skills across the management team
Improved sales
More effective customer service communication
eBook
Our eBook outlines 7 practical reinforcement strategies to help your participants internalize the learning and turn it into daily practice so they can get sustained performance results.
Many retailers are taking on transformational change initiatives. But all too often, they take a ready, fire, aim approach to implementing and leading change. This is just one example of how MOHR Retail helps clients execute on their strategies through leadership behaviors and skills that become integrated into the culture. We worked with this national retail craft chain to develop their district and retail leaders' skills and confidence to lead change effectively. Due to the successful strategy execution, the initiative resulted in:
Fewer compliance exceptions
Increased client loyalty
Increased sales
Contact Us Today
We develop the interpersonal skills that get results for retail businesses. Let us put our experience to work for you. Simply fill out the form to the right or give us a call, and we'll help you determine the right strategy and next steps to meet your needs.