Retail Training that Gets Results
From higher motivation and engagement to increased sales and profitability to delivering world-class customer experiences, retailers partner with us to build the strategies and behaviors that enable them to transform their cultures and achieve their mission-critical goals.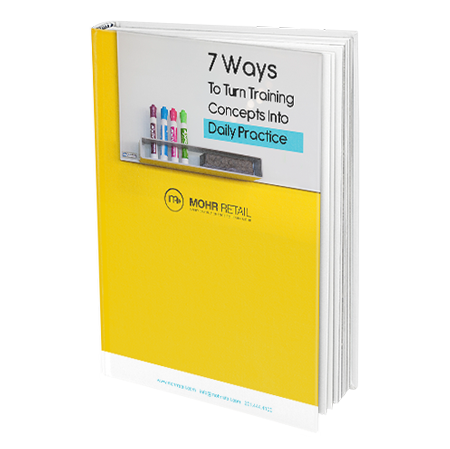 Refreshed & Relaunched Leadership Training to Upskill District & District Loss Prevention Managers Drives High Engagement and Results
This off-price retailer credits MOHR Retail for helping the organization build consistency in leadership and talent development strategies, develop bench strength to grow more leaders within the organization, and create a common language through the application of the MOHR Retail 4 Communication Skills and DISC Personal Style indicator. The retailer has documented several positive business outcomes as a result of working with us, including:
Enhanced communication and leadership skills and confidence across the field organization
Reduced turnover and increased talent retention and internal promotions
Increased trust and collaboration through more effective communication and flexing to meet others where they are
eBook
Our eBook outlines 7 practical reinforcement strategies to help your participants internalize the learning and turn it into daily practice so they can get sustained performance results.
Enhancing Retail Management Strategies and Behaviors, from the Field to HQ
This large international retailer with a unique business model had identified a need to enhance the communication and management skills of its field-based retail managers and supervisors. Partnering with MOHR Retail on their retail management training has helped the organization build consistency in the strategies, behaviors, and expectations of management across the organization, from the field to the headquarters. This retailer has documented a number of positive business outcomes as a result of working with us, including:
Increased competence in communication and management skills across the management team
Improved sales
More effective customer service communication
Developing Results-Driven Leaders, Efficiently and Effectively
The owner of Mystery Pix, a performing attraction and event photography company, had been spending a great deal of time and energy developing, facilitating, and implementing interpersonal skills training each year for his company leaders as part of their annual conference. Partnering with MOHR Retail, including leveraging the firm's Retail Multiunit Leadership (RML) solution and expert retail facilitators, saved time and effort while delivering the desired learning outcomes and tremendous value for participants. Due to the program's success, other leaders will be attending MOHR Retail's public workshops, and the company plans to continue partnering with MOHR Retail on leadership development programs going forward. Among the positive results Mystery Pix has documented:
All participants rated the program "very worthwhile" or "worthwhile" in post-training surveys, with some saying it was the most valuable aspect of the conference 

Improved efficiency by saving time and effort of developing and facilitating training in-house

Achieved desired learning outcomes and provided additional value through ongoing reinforcement for continued application on the job
Many retailers are taking on transformational change initiatives. But all too often, they take a ready, fire, aim approach to implementing and leading change. This is just one example of how MOHR Retail helps clients execute on their strategies through leadership behaviors and skills that become integrated into the culture. We worked with this national retail craft chain to develop their district and retail leaders' skills and confidence to lead change effectively. Due to the successful strategy execution, the initiative resulted in:
Fewer compliance exceptions
Increased client loyalty
Increased sales
Contact Us Today
We develop the interpersonal skills that get results for retail businesses. Let us put our experience to work for you. Simply fill out the form to the right or give us a call, and we'll help you determine the right strategy and next steps to meet your needs.