Results-Driven Learning Never Goes Out of Style
In retail and in the world of learning and development, trends come and go. Success comes from being able to recognize and take advantage of the best ideas without wasting time and resources on flavor-of-the month fads that won't create lasting impact.
Our proven approach is rooted in behavioral-based learning that encourages participants to roll up their sleeves and apply the concepts they learn in our seminars right away to real-world situations. We combine our deep retail experience with innovative classroom, online, and performance support tools to give you the optimum learning blend for your business and the best return for your investment.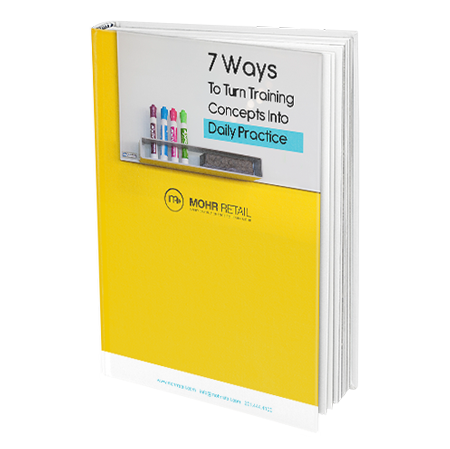 Building Confidence and Competence
There are no bystanders in our learning programs, whether they're conducted virtually or in person. Your participants will be learning from experienced retail professionals who are experts in facilitating hands-on, high-impact workshops that allow participants to practice with real-life situations, building competence and confidence.
eBook
Our eBook outlines 7 practical reinforcement strategies to help your participants internalize the learning and turn it into daily practice so they can get sustained performance results.
Sustaining Learning and Behaviors with Technology
A single training event can only take you so far. From senior leadership engagement and store assessments to innovative mobile and online performance support tools and microlearning apps, all of our programs include a comprehensive, easy-to-implement strategy for continued use, and reinforcement strategies to make sure new behaviors stick.
"The biggest change I have seen is our willingness to dig beneath the surface of our vendor relationships. I can see an increasing trust level between us and some of our major partners. Changing culture is an arduous process, but slowly and surely, we are beginning to see the needle move."