Get More from Your Training Investment: The Keys to Continued Knowledge Growth and Retention
According to new research by MOHR Retail learning partner Axonify, 37% of retail managers and 25% of associates say a lack of employee training is impacting their day-to-day work. Learning and development is critical for improving engagement, retention, and the customer experience. Understandably, retailers want to make sure they're getting the most from the money and time they invest in training.
In this interactive webinar moderated by MOHR Retail CEO Mary Beth Garcia, featured speaker JD Dillon, Chief Learning Architect at Axonify and author of "The Modern Learning Ecosystem," shares proven training approaches based on scientific research about how people learn and built for how employees work. He also answers common questions about what it takes to make learning stick and how to ensure people apply the skills back on the job on an ongoing basis.
View the webinar to learn:
Why it is important to have multiple touchpoints and engagement with participants along their learning journey
The role of the boss in reinforcement and ensuring training sticks
7 ways to achieve long-term ROI on your training investments
About guest speaker JD Dillon
JD became a learning and performance expert over two decades working in operations and talent development with dynamic organizations, including Disney, Kaplan and AMC. A respected author and speaker in the professional community, JD continues to apply his passion for helping people around the world do their best work every day in his role as Axonify's Chief Learning Architect. JD's goal is to foster workplace equity by making sure every employee — regardless of role, location, background or tenure — has the support they need to do their best work today while building the skills and confidence they'll need to be successful tomorrow.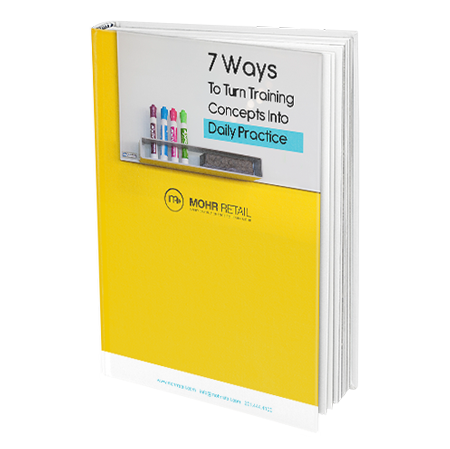 eBook
Our eBook outlines 7 practical reinforcement strategies to help your participants internalize the learning and turn it into daily practice so they can get sustained performance results.
"The MOHR Retail team has been a pleasure to work with over the years. They truly understand the day-to-day challenges of the ever-changing retail environment. I certainly appreciate their partnership in our training and development efforts for our retail district managers and store managers at James Avery."