Webinar: How Successful Retailers Get Maximum Impact from Training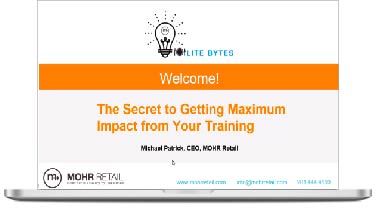 Every training initiative is an investment in the future of the business—a down payment on the results and impact you expect to see from new skills, strategies, and behaviors. Are you getting a full return on that investment?
In this interactive webinar, MOHR Retail CEO Michael Patrick and President Mary Beth Garcia share the secret to making sure your training gets priority and delivers maximum impact long after the initial rollout.
Learn how to position your training before it starts for maximum impact.
Find out how to define roles related to implementation.
Share ideas on how to lean into senior leaders on topics they will support.
Apply a checklist of questions to build confidence in speaking with senior leaders about their role.
View: The Secret to Getting Maximum Impact from Your Training
Please complete the form to the below for immediate access to the webinar: