Onsite/Virtual Instructor-Led Training
No Lectures, No Speeches; In Our Programs, People Get to Work
We practice primarily observational learning, the most highly validated approach in learning and development. Participants roll up their sleeves and get to work in a safe environment that allows them to practice new skills and behaviors and get feedback in real time to ensure they're getting the best use of their time away from the job.
Our course designers and professional facilitators provide more than their instructional design and facilitation expertise; they offer their first-hand, hard-won experience in retail sales, management, and merchandising. They're able to create courses that are unique in the industry and connect with your learners—because they've walked in their shoes.
Every Minute Delivers Value
Every minute spent in the classroom—whether in person or virtual—is time away from the job, and that's why every minute has to count. Part of the reason our instructor-led programs are so successful is that we leverage the latest technology for online pre-work, surveys, and post-classroom reinforcement to ensure classroom time is spent most effectively. Additionally, through our strategic partner Axonify, we offer the latest in mobile and web-based microlearning to engage your leaders and associates with quick learning bursts and skill testing.
The result is immediate relevance and the skill transfer necessary to drive long-lasting behavior change and performance outcomes.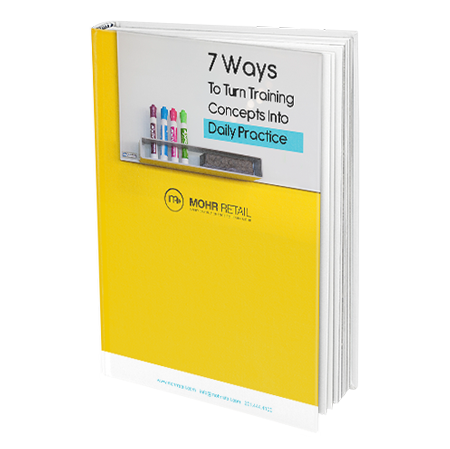 eBook
Our eBook outlines 7 practical reinforcement strategies to help your participants internalize the learning and turn it into daily practice so they can get sustained performance results.
The Agility to Keep You and Your Learners Ahead of the Trends
As we respond to client needs, we incorporate what we're learning (yes, every day is a chance for us to learn, as well) about the ever-changing face of retail into our programs. You get the benefit of our unique vantage point working with top retailers across the globe as well as our ongoing national retail research to stay ahead of trends, challenges and market shifts.
"The MOHR Retail team has been a pleasure to work with over the years. They truly understand the day-to-day challenges of the ever-changing retail environment. I certainly appreciate their partnership in our training and development efforts for our retail district managers and store managers at James Avery."
Interpersonal Insights and Skills That Drive Results
Integrated into our core retail leadership and management training is the DiSC® Behavior Style assessment, which provides participants with powerful insights about how they tend to communicate. They learn what their strengths are in terms of how they connect with others as well as the limitations that could keep them from being able to create strong relationships. These insights form the foundation for learning, application, and change.
Contact Us Today
We develop the interpersonal skills that get results for retail businesses. Let us put our experience to work for you. Simply fill out the form to the right or give us a call, and we'll help you determine the right strategy and next steps to meet your needs.