On-Site/Virtual Classroom
Retail Negotiation Series Overview
There are proven techniques that help even the most experienced buyer build powerful internal partnerships, strengthen vendor relationships, and consistently achieve the best negotiations, regardless of fast-paced market changes. Our retail buyer training, which draws from our research into effective influencing and vendor negotiation techniques, is an interactive, scenario-based program that will equip your buyers with the strategic skills they need to keep your competitive advantage.
An Implementation Strategy Designed to Get Results
Lasting behavior change doesn't come from a one-time training event. Our retail buyer training includes easy-to-implement, pre-and post-workshop tools and activities to ensure you get the greatest value from your training investments.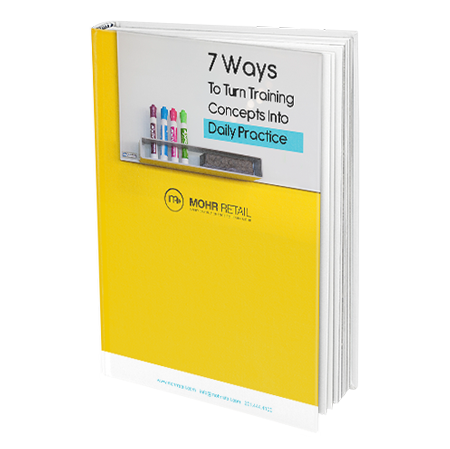 eBook
Our eBook outlines 7 practical reinforcement strategies to help your participants internalize the learning and turn it into daily practice so they can get sustained performance results.
Everything DiSC® Style Survey: Prior to the workshop, all participants complete this 15-minute online survey that assesses personal communication styles. Your style influences how you plan, prioritize, and approach all negotiations. Knowing your style allows you to build on strengths and adjust for limitations. It also gives you invaluable insight into how they other side operates.
Senior Manager Training: To optimize the effectiveness of the training and connect it to specific cultural and behavioral standards, many retailers choose to have their senior managers participate in a half-day version of the workshop or a full-day Executive Overview of the entire Retail Negotiation Series program. (Please note: Additional fees apply for senior manager training. Contact us for details.)
The Workshop: Part One
New Negotiation Mindset. Introductory discussion of the evolution of effective retail negotiation and how to best leverage new thinking and strategies in order to focus on planning and execution.
Principles of Negotiation. Three underlying principles uncovered from MOHR Retail's national research of the best retail negotiators. These principles are referenced throughout the program, with direct, how-to methods buyers can immediately use to create better results.
Review of personalized 20-page Everything DiSC® report. Refine individual communication effectiveness strategies throughout the session.
Daily/Single Issue Planning Tool. Learning to separate immediate crises from long-term planning and how to respond instead of react.
The "Agreement Cycle." Six critical negotiation skills that keep communication flowing; how to position your offer, and how to shift power in your favor.
"Resolving Vendor Issues." Modeling and hands-on practice of a proven strategy to build competency using real-life scenarios for addressing late shipments, mid-season price increases, and a range of other possible issues that require negotiation.
The Workshop: Part Two
"Influencing Internal Partners." Buyers frequently need change priorities, apply more resources, or adjust policies to successfully implement vendor agreements. The fast-paced nature of buying can be frustrating for other sales/service departments. This workshop focuses on modeling and hands-on practice of strategies to strengthen skills in influencing internal partners while also recognizing common goals across the supply chain.
Welcome to the Vendor's World. Exploring how vendors plan before they visit and developing skills to reposition key arguments that benefit both sides of the bargaining table.
Long-Term Planning Tools. Putting essential data about all parties on one page for ease of use and reference:

Partnership Principles. What builds true vendor partnerships? Exploration and application of sophisticated approaches involving power and ethics—based on what key vendors and retailers tell us about the partnership and relationship-building factors that influence them most.
Managing Powerful Relationships. How to prepare and shift power in important strategic negotiations (for example, with multiple partners or during major seasonal meetings). Model team negotiations allows participants to play the "retailer" or the "vendor." Both roles build skills and provide key insights, some new to your buying team, in order to build better negotiating results.
Application and Change You Can Measure
Microlearning reinforcement: RNS+ is a proven microlearning app for reinforcement that boosts application of techniques taught in the two-day training to a consistent 90% usage rate. Prompted through an initial e-mail alert, participants receive a training-related question every day for 90 days. Average time spent on response is less than half a minute, yet this exercise keeps newly acquired skills and training concepts top of mind, delivering remarkable bang for the buck.
Cost: $975 

per person
Pricing Includes: The online DiSC® Style Survey, all planning and classroom materials, retail consultant facilitation for two days, and the 90-day web-based retention tool.