Equip Your Facilitators to Deliver Our Retail Management Training
Our facilitators bring vast industry experience and subject matter expertise to every retail management training session they deliver. But there are times when an internal facilitator can add unique value to the learning process.
The Value of Certification
Internal Credibility and Relevance: Your facilitators bring "insider knowledge" and firsthand company experience to the learning, which means they can easily connect learning concepts to the everyday real-world experiences of your participants.
Cost Effective and Efficient: A cadre of internal facilitators, combined with our discounted participant rates for internally facilitated sessions, means you can minimize the cost of developing larger learner populations.
Powerful Professional Development: Facilitating is one of the best ways to learn and to reinforce retail management leadership behaviors taught in the classroom. Many facilitators successfully move up into leadership roles in their organizations as a result of the MOHR certification and facilitation experience, creating further value for your company.
Maximize Your Flexibility: Once your internal resources are certified by MOHR they can order materials as needed and train who and when they need to based on the needs of the business.
Our train-the-trainer program is designed to equip your in-house trainers and facilitators with the knowledge, skills, and confidence to successfully deliver Retail Store Leadership to your store managers, assistants, leads, and others. It's a rigorous certification process that includes hands-on practice, feedback, and ongoing support from our experienced master facilitators.
Our goal is to ensure you get lasting results from any MOHR Retail training experience, whether it's facilitated by our team or yours. We stay in touch and monitor your facilitators' progress, and they'll always have access to our professional facilitators and support team for any challenges or questions that come up along the way.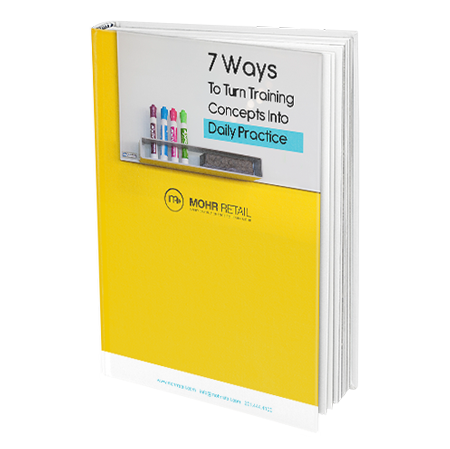 eBook
Our eBook outlines 7 practical reinforcement strategies to help your participants internalize the learning and turn it into daily practice so they can get sustained performance results.
Cost: $16,000 for up to 6 trainer candidates
Cost includes up to six complete sets of detailed Trainer's Guides, DVDs with all video components, sets of professional wall charts illustrating all key points and strategies, and electronic copies of planning forms.
Modular, Flexible Implementation: Pricing includes certification in all modules of our Retail Store Leadership course. Even if you aren't using them today, modules will be ready when you want to use them, and you'll be certified to deliver them.
Annual Trainer Refresher: Trainers are required to meet with a MOHR Master Facilitator each year to renew their facilitation. It allows time to get up-to-date revisions and the latest facilitation techniques MOHR has refined throughout the year. This is priced separately at current consulting day rate.
Participant Material Discounts: Volume discounts are available for sessions delivered by your internal certified facilitators. Contact us for full details.