On-Site/Virtual Classroom
Recruiting & Interviewing
Retail Recruitment and Interviewing Strategies: On-Site/Virtual Classroom Overview
A hands-on, experiential workshop designed to help managers fill their pipelines of qualified associates and manager candidates, Recruiting & Interviewing is a valuable component of your broader retail recruitment strategies. During the first half of this session, participants learn critical recruiting and interviewing skills and strategies as well as relevant laws and legal requirements. The rest of the session is spent applying what they've learned in three practical modules focused on a range of situations:
Building a Recruiting Network with other businesses and organizations that may be candidate sources.
Recruiting Potential Candidates a manager might meet outside the workplace.
Selecting the Best with a behavior-based interview model, practice, and feedback.
An Implementation Strategy Designed to Get Results
Lasting behavioral change doesn't come from a one-time training event. Our on-site/virtual classroom retail Recruiting & Interviewing Series training includes easy-to-implement pre- and post-workshop tools and activities to ensure that you get the highest value from your training investments.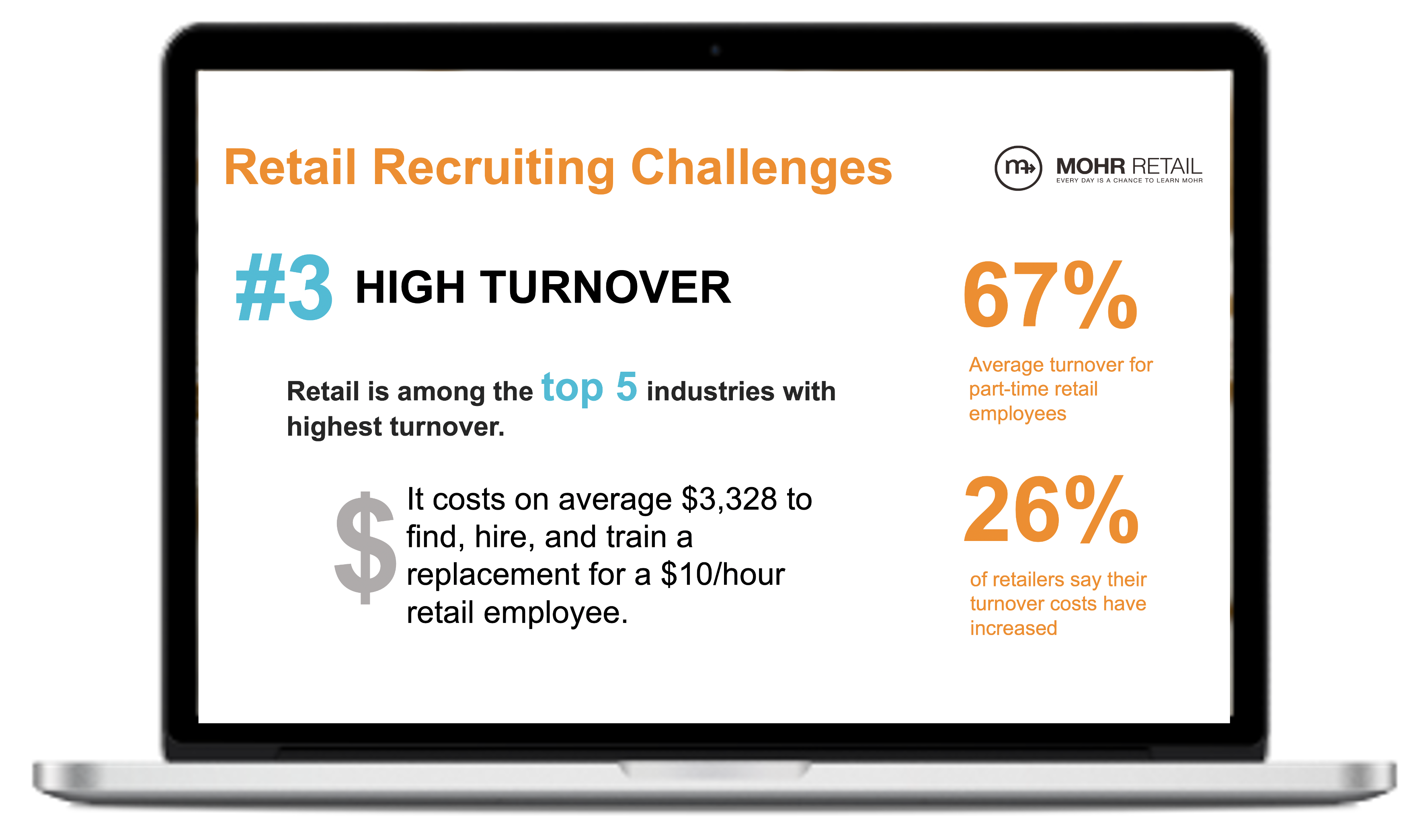 Retail Hiring Tips & Trends
Download the slide deck from our webinar "The War For Talent — Retail Hiring Strategies," featuring trends and practical tips for staffing up during peak seasons—and throughout the year.
Key Components
Candidate Profile: Developing a three-pronged profile with required/desired core knowledge (about retail industry and working in a store), skills (interpersonal and technical), and talent (innate abilities).
Recruiting & Interviewing Skills: Learning and practicing interpersonal skills for gathering information and setting the tone during interviews.
Lawful and Unlawful Inquiries: Review of federal guidelines; game-based exercises exploring appropriate vs. inappropriate questions to ask during an interview; strategies for focusing on job-related questions rather than personal evaluations; how to avoid evaluative feedback during an interview that might shape candidate responses in a particular direction.
Step-by-Step Strategies:
Interviewing: Participants learn step-by-step interview strategies and experience a live model of strategies and interviewing skills, followed by group practice with their own situations and profiles.
Recruiting: Participants explore best practices for developing a recruiting network with other businesses and key organizations. They also learn strategies and real-world examples of how to be more opportunistic about recruiting potential candidates into the pipeline.
In-Depth Interviews: Participants build a strategy for conducting in-depth interviews and learn how effective interviews should sound via live model demonstrations of sales associate and manager-level interviews. Skill practice using the group's candidate profile follows, with feedback from peers and the master facilitator.
Ongoing Refinement and Reinforcement
Post-session forms and activities allow participants to refine their candidate profiles and reinforce use of the skills and strategies.
$175 per participant
Facilitation Rate
$3,500, plus travel & expenses
Looking for a detailed agenda?