Willingness to Accept Change: Team Assessment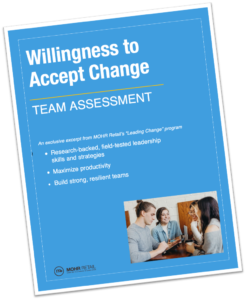 Download: Willingness to Accept Change: Team Assessment
Please complete the form below to access this free tool.
How accepting will each of your direct reports/management team members be of the changes a new initiative (or initiatives) will bring about? Download this assessment to gauge buy-in and develop strategies to gain commitment.
---
This assessment is excerpted from MOHR Retail's Leading Change program, which includes debriefings and application of the DiSC® profile and discussions and strategies for flexing leadership roles to maximize productivity and build strong team relations.
Store Support Leaders and Retail Multiunit Leaders also learn:
Comfort Zone model to understand where most learning takes place
How to communicate one-on-one and in groups, and the dynamics involved with each type of meeting
A Change Management model to identify developmental, incremental, and transformational changes and time needed to understand and accept each
How to prepare to communicate change
Discussion strategies for communicating and following up
Willingness to Accept Change Team Assessment