Online Retail Learning Applications
Web-Based, Mobile-Friendly Learning
Because real behavioral changes occur when participants apply the techniques they practiced in the training to the actual workplace, we've made reinforcement a standard part of every training program we offer. Our innovative, web-based "Plus" microlearning programs, created in partnership with our strategic partner Axonify, make it easy for your participants to stay connected to the learning and to consistently put into practice the behaviors and concepts they learned in the classroom.
We developed our reinforcement approach with retail's realities in mind, weaving microlearning into the flow of the retail environment. Prompted through an initial e-mail alert, learners have online access to a question a day for 90 days through a personal web page created just for that participant. They can access the Axonify platform via the device of your choosing (POS, mobile device, or any other web-enabled access point), and dashboards allow for tracking activity and measuring it against store results or other financial metrics.
The platform's reporting features give supervisors real-time information about participant problem areas, all easily accessed via their smartphones. As a result, your managers will know exactly what skills and behaviors are being retained and where to focus their coaching efforts and time.
It's quick, it's seamless, it's personalized, and it works. Average time spent on the page is less than half a minute per question, yet it helps your learners build and sustain new behavioral habits, delivering remarkable bang for the buck.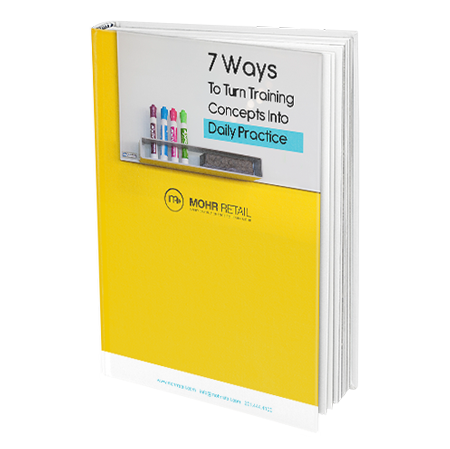 eBook
Our eBook outlines 7 practical reinforcement strategies to help your participants internalize the learning and turn it into daily practice so they can get sustained performance results.
Programs like our Retail Store Leadership Online Training (RSL OLT) course allow you to deliver cost-effective and efficient training in an easily accessible web-based format that draws on the same high-quality, retail-researched content and concepts provided in our classroom workshops. And our integrated approach, which includes coaching guides and other tools for practice and reinforcement, ensures you get the long-lasting productivity and business results you need.
"The MOHR Retail team has been a pleasure to work with over the years. They truly understand the day-to-day challenges of the ever-changing retail environment. I certainly appreciate their partnership in our training and development efforts for our retail district managers and store managers at James Avery."
Custom Web-Based Training
Our experts can also work with you to develop customized e-learning or web-based training modules. An example of a custom web-based microlearning program we have developed for other clients includes a series of 3-4 topic-based training "bursts," each 3-5 minutes long, with related retention questions that follow.
Contact us to discuss whether a customized solution is right for your needs.
Contact Us Today
We develop the interpersonal skills that get results for retail businesses. Let us put our experience to work for you. Simply fill out the form to the right or give us a call, and we'll help you determine the right strategy and next steps to meet your needs.