On-Site/Virtual Classroom
Retail Management Training: On-Site/Virtual Overview
In this interactive, scenario-based program, your store leaders will learn practical strategies based on our national industry research of best practices for store-based supervisors who deal directly with customers. The RSL modules are critical situations these supervisors face every day with their teams. By developing your supervisors' interpersonal skills and by changing behaviors in ways that positively impact the entire team, your managers, assistants, and key holders will be able to navigate the challenges of store management—from high turnover to a turbulent economy to the fickle tastes and habits of consumers. MOHR's proven strategies will help your supervisors engage associates, increase customer loyalty, and inspire new levels of performance.
An Implementation Strategy Designed to Get Results
Lasting behavior change doesn't come from a one-time training event. Our on-site/virtual classroom retail management training includes easy-to-implement pre- and post-workshop tools and activities to ensure you get the greatest value from your training investments. Application modules addressing a variety of key management skills and performance issues are also available as part of the RSL program. We will work with you prior to the training to select appropriate application modules and delivery mechanisms based on your business and learning objectives.
Retail Store Leadership Online Training (RSL OLT) brings the concepts of this time-tested leadership program to a mobile format accessible via phone, tablet, or desktop. Includes microlearning and coaching guides for reinforcement. Find out more here.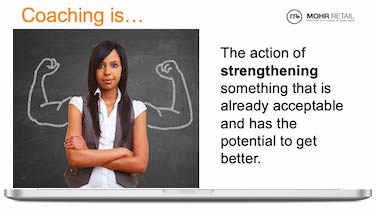 On-Demand Webinar
Your store leaders can make a huge impact on the customer and employee experience with coaching conversations that take less than 3 minutes. Learn effective floor supervision tips and the benefits of coaching in real-time.
Everything DiSC® Behavioral Survey: All participants complete this 15-minute pre-workshop, online survey. It provides participants with powerful insights about how they tend to communicate, what their strengths are in terms of how they connect with others, and the limitations that could keep them from being able to create strong relationships. These insights form the foundation for learning, application, and change.
Communication Skills Prework: Participants complete a 20-30 minute reading and written exercise assignment on the four core Communication Skills used in the program. This allows them to better connect their real-world situations prior to the session.
Senior Manager Training: To optimize the effectiveness of the training and connect it to specific cultural and behavioral standards, many retailers choose to have their senior managers participate in a half-day version of the workshop or a full-day Executive Overview of the entire Retail Store Leadership program. (Please note: Additional fees apply for senior manager training. Contact us for details.)
The Role of the Leader. Uncover the characteristics of a "Best Boss." Identify the range of roles a motivational manager must play. Learn how managers should implement effective strategies to motivate your workforce. Establish an Anchor Goal that keeps everyone focused on what matters most.
Review of personalized 20-page Everything DiSC® report. Refine communication effectiveness, each according to his or her own style, throughout the session.
Four Core Communication Skills. Learn and apply the four core communication skills to retail examples, including written exercises and group discussion.
Focused Application: Facilitation of one half-day application module of your choice (see list on following tab).
Performance Situation Application Modules: Available for implementation according to your specific business and learning objectives. Each classroom-based module is approximately 3 hours long.
Setting Performance Expectations
Effective Floor Supervision
Improving Below-Standard Performance
Delegating to Develop
Professional Sales Coaching
Resolving Team Conflicts
Getting Commitment on New Initiatives
Recruiting and Interviewing (one full-day)
Senior Manager Role: Follow-up and Reinforcement
Ongoing Change You Can Measure
Microlearning reinforcement: RSL+ is a proven microlearning app for reinforcement that boosts application of the techniques taught in the two-day training to a consistent 90% usage rate. Prompted through an initial e-mail alert, participants receive a training session-related question every day for 90 days. Average time spent on response is less than half a minute, yet this exercise keeps newly acquired skills and training concepts top of mind, delivering remarkable bang for the buck. Clients report a direct link between consistent usage of the app and improved store performance.
Virtual or Onsite Classroom
$750 per participant
Includes eight (8) two-hour virtual instructor-led sessions or a two-day onsite workshop, professional facilitation, DiSC®, and post-training microlearning reinforcement
Looking for a detailed agenda?