How the DiSC Profile Can Help You Be a More Effective Retail Leader
Stress, change, and uncertainty hit retailers hard when the coronavirus pandemic upended all semblance of normal or "business as usual." While the pandemic was an extreme example, change is an everyday reality in retail. And one of the things we know from our work using the DiSC® Profile is that, at an individual level, it doesn't affect everyone in the same way. Each of us will have different ways of reacting, responding, and coping with the impact of this virus.
That means retail multiunit leaders, store leaders, and merchant and store support center teams need to understand how disruption and change — whether incremental or transformational — are likely to affect their own behavior as well as that of their customers and associates. Once they have those insights, they'll be able to adjust their approaches as needed to address different concerns and keep people engaged.
What are the 4 DiSC types?
First, some background. The DiSC Profile reveals a person's behavioral tendencies through the lens of four dimensions of behavior: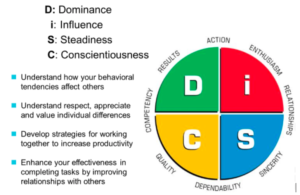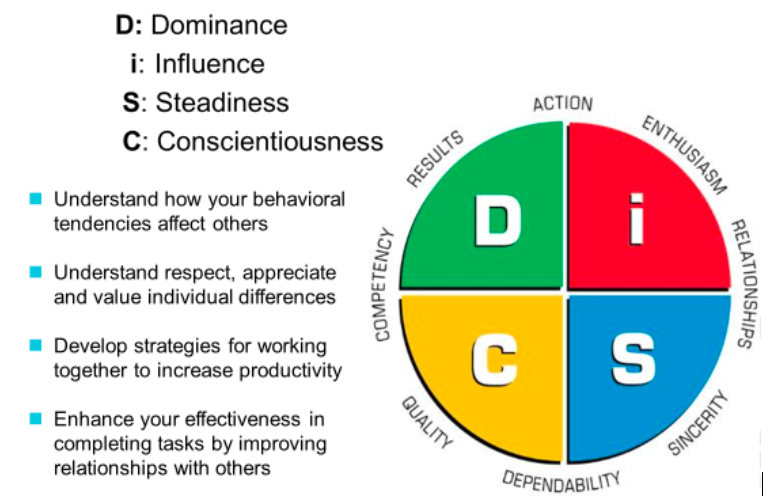 It's worth noting that we all have some percentage of each dimension, and no one dimension is good or bad. There's value in each of them and especially in how we contribute to organizational goals and interact with our work teams. The combination of these different dimensions makes up your personal DiSC style.
DiSC looks at which behaviors we're most likely to use when interacting with others and what we hope to accomplish with our actions. Unlike personality, which is pretty hard to change, behaviors are changeable. But these tendencies are largely based on assumptions and happen quickly without much thought. What happens is, those assumptions influence our behaviors and the choices we make, becoming a kind of internal "GPS" that keeps us running on autopilot.
That autopilot mode can be detrimental to a leader in the best of times. It absolutely doesn't work in the midst of a pandemic. Particularly as a retail leader today, being aware of different DiSC styles and intentional about the way you interact is vital. It will allow you to be 100% present so that you can anticipate what questions and concerns people might have, recognize what they care about, and choose the most effective approach based on what they need — which may not necessarily be what feels natural to you.
Retail Leadership Approaches Based on Different DiSC Styles
To be more effective in your communications and approaches related to disruption or change, think about how the change is impacting those you're interacting with. This might include other retail leaders, associates, customers, and vendors.
Here's a look at what you might be observing, based on tendencies toward different dimensions of the DiSC model. Once you're aware of these reactions, you can adapt your leadership approach to keep everyone engaged and productive.
D = Dominance
D's are motivated with change: Let's do it; let's get this done. They're gong ho and eager to create a plan and execute on it. With a focus on results and control, they might even start to steamroll over others. And that could make them seem insensitive to other people on their team.
Because D's like challenge, digest information quickly, and are willing to "wing" it, they may be less daunted by new ways of working and shifting priorities, which means they could become strong advocates for changes you need to implement. Consider how you might be able to "delegate to develop" them during this time, but you may need to provide extra coaching to balance their tendency to become overly demanding.
I: Influence
If your merchant and support teams are working remotely, I's — who focus on involvement and approval — will be missing the face-to-face social engagement they thrive on. They'll want the opportunity for live interaction through expressive media like FaceTime and Zoom, as opposed to being limited to text and email.
With their social charm and networking strengths, your I's can help energize others who might be feeling disconnected. But you'll need to provide the direction and mechanisms to keep interaction high.
S: Steadiness
Your S's are the ones you'll need to reassure the most. They're most likely to resist change, and a fear the unknown can create huge anxiety for them. Be a calming force for them by communicating and reinforcing that we will get through this.
S's focus on trust and cooperation, so it's doubly important that you communicate often and be upfront with them while remaining encouraging and supportive. That balance will help build trust and keep them engaged.
C: Conscientiousness
With an affinity for analysis and data, C's will likely be looking for all the information, reporting, and statistics they can find to learn as much as possible about the change. Reassure them and remind them to come up for air. It can be easy to get distracted and overwhelmed.
When it's a big, transformational change, it's important to keep your C's grounded in relevant work. Consider looking for opportunities or projects, either related to the change or in other areas, that could benefit from their focus on process and quality. That will allow them to direct their energy and attention in a positive, productive way.
As you think about the variety of styles around you, recognize that while diversity can be challenging, it also adds strength. Working together and interacting with DiSC styles in mind will allow you to be 100% present for those around you, and it will bring out the best in your teams.
Get in touch to learn more about the online Everything DiSC® Style Survey, which is an integral part of our online and instructor-led/virtual retail training programs. It provides participants with powerful insights about how they tend to communicate, what their strengths are in terms of how they connect with others, and the limitations that could keep them from being able to create strong relationships. These insights form the foundation for learning, application, and change.