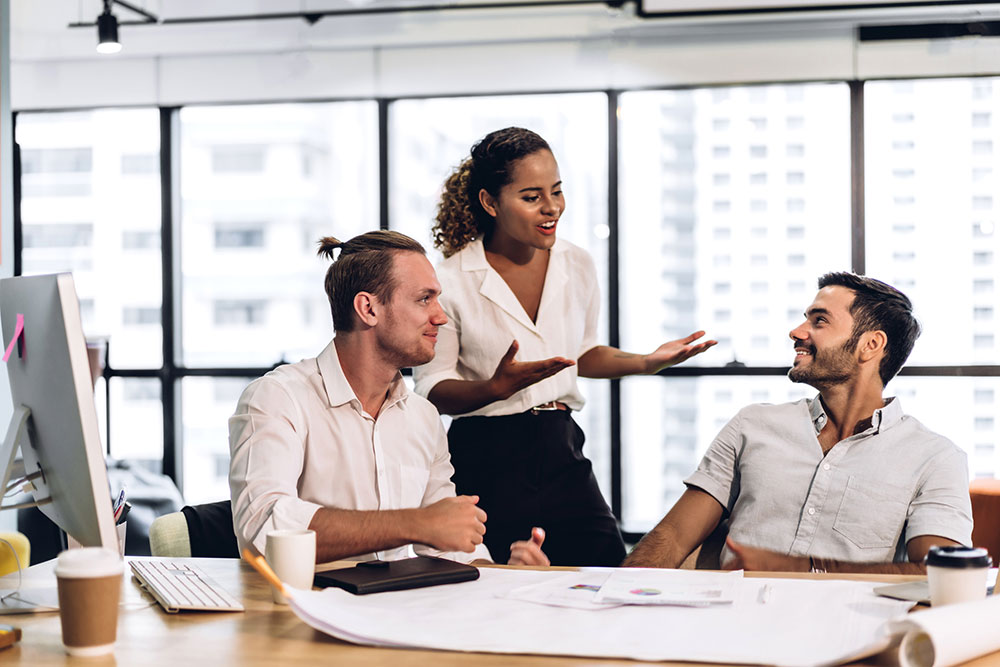 Leadership Skills Every Retail Store Support Leader Needs
When we're partnering with clients on their strategic learning initiatives, the work typically initiates with the retail field organization, store leaders, and, most frequently, the multi-unit leaders — those district and regional managers who lead through others and from a distance, managing several retail store leaders and teams. After successful implementations and behavior changes start happening that drive improved performance results at the store level, the next step is replicating that common language and skill set with the store support and distribution center leaders.
The reality is, in terms of leadership development, this is often the most under-supported group in retail.
A national research study we conducted with a variety of retailers showed that many support supervisors in DCs and/or home offices receive technical and functional training and higher-level outside certifications that help them in their positions. There's much less attention, however, being placed on the critical "soft skills" — like interpersonal communication, coaching, and collaboration — that they need to be effective leaders.
What's more, we found that what little was being provided in these areas wasn't retail-specific, and it wasn't designed to address the unique realities of leaders working within a retail organization and who ultimately service those who service customers. These leaders may work in an office or distribution center, but they're still part of the retail ecosystem — and that's a unique world.
Let's take a closer look at the roles — and challenges — of today's retail support leaders.
Retail's Big Leadership Development Gap
Our research confirmed that store support center and distribution center leaders have triple roles, and it can be challenging to juggle all three competently. These leaders are typically:
Doing: They have work they are responsible for completing in their department;
Leading: They oversee a team of associates who are contributing to the department's goals and initiatives; and
Influencing: In addition to the people they directly supervise, they rely on the field organization and others in the store support center to get the job done.
These leaders need technical skills and expertise to navigate their responsibilities, but that's not enough to be successful in their roles. It takes an entirely different set of skills to coach, engage, and motivate a team. It requires different strategies and heightened emotional intelligence to collaborate with others effectively and build commitment around a shared vision, even when you have no direct supervisory authority over them.
It's not uncommon for people to be promoted into these leadership roles based on their technical or functional skills, and there's nothing inherently wrong with this approach. The problem is, many organizations end up setting their new leaders up to fail by assuming their domain expertise will automatically translate into leadership effectiveness, or that they'll just emulate the example of other leaders they've worked for and learn as they go.
This is how "accidental leaders" are created — they have the title and the responsibilities, but they've not been given the upskilling necessary to be successful. They might figure it out, but more often than not, they will struggle to inspire others, build accountability, and ensure their teams are consistently meeting performance expectations and delivering results.
In other words, that development gap can have a ripple effect, leading to much bigger business consequences.
Like everyone in retail, these leaders are busy, trying to accomplish more with less payroll, less staff, and less time in the day. With so much on their plates and without appropriate interpersonal skill development, it's not surprising that many will devote most of their attention to the tactical aspects of the job that they're most comfortable with and let issues related to effective communication, motivation, and team development slide.
That's why it's so important to equip them with leadership skills, not just technical skills. It will help them navigate their roles much more effectively while creating the kind of positive work environment that attracts and retains great talent in the process. Those are the kinds of leaders you'll want your high-potentials to emulate.
Prioritize the Skills Your Store Support Leaders Need
Think about the leadership skills and strategies that will help your support leaders improve their department and team's productivity. For example:
At a broad level, they need to know how to work effectively with others in and outside of their department and supply chain.
Frequent check-ins with direct report teams and effective communication skills are critical for allowing leaders to gain information and input from associates who are performing technical and strategic tasks that benefit the department and the organization.
Culture is created through associates feeling valued and connected. One way great leaders cultivate great cultures is by demonstrating that they respect and are interested in their associates' input and ideas. The continually encourage team members to share insights and feedback on how processes can be improved.
Store support and DC leaders are involved in a lot of cross-functional team meetings— some face-to-face, many virtual — and they often don't control the agenda. Instead, they are there as specialists to advise a team or team leader. Sometimes these meetings are unplanned, and the support department ends up with a to-do list as a result. Being able to think through how to best play a role that strengthens the partnership relationship while still controlling the number of commitments they accept is a key leadership responsibility.
Each meeting or phone call is an opportunity to influence, seek collaboration, and make a favorable impression with peers and corporate leaders. Leadership presence is essential, and for most, it takes time and intention to develop to it. It's more than worth it, as skillful, effective leaders are able to create strong inter-departmental partnerships that help long-term strategy. It also tends to open up more promotion opportunities and strengthen the leadership pipeline.
Unlike technical skills that can be learned, applied, and refined rather quickly, interpersonal and leadership skills need time and frequent practice to develop. These retail leaders are too vital to the business to shortchange their growth. We need to prioritize development that addresses all three of the important roles they play.
What are you doing to develop your store support leaders? How are they navigating the demands specific to their roles? Make sure you're giving them both the technical/functional and soft skills learning and strategies they need to be successful retail leaders.
---
> Store Support Leadership (SSL) is leadership development designed by retail leaders for retail leaders. MOHR Retail clients rely on SSL for developing leaders across a range of areas, including distribution center, supply chain, buyers, planners, accounts payable, tax audit, merchandising, tax audit, category management, advertising, web and IT support, legal, and others. Get in touch to learn how it can address your business needs and to discuss how it fits into your learning and development strategies.