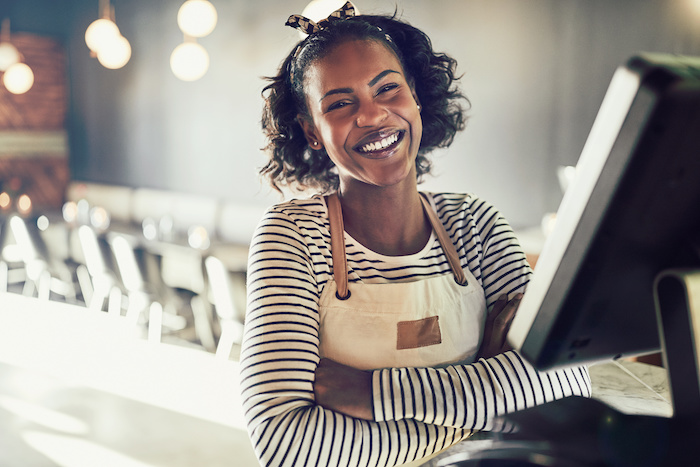 Loyal Employees, Loyal Customers: Elevate the Shopping Experience by Investing in Retail Talent
Blame it on the Great Resignation, the pandemic, and other factors: It has become undisputedly more challenging to recruit and retain talent in the retail industry. Unfortunately, the frontline, sales, and service associates, who are the face of your brand to your customers, are the populations most affected. And that means the customer experience you're working so hard to create and maintain is at risk.
We know that customers feel more confident and comfortable in a store when they see a familiar face at the checkout counter or on the sales floor. So how do you combat this multi-pronged issue?
Some retail leaders will decide there's no point in investing in their people if they can't be sure they're going to say. The more strategic and, ultimately, more successful leaders recognize that the best way to attract and engage customers and build a profitable brand is to invest in the front line.
Creating an environment where your frontline associates are highly engaged and want to come to work every day is a key tenant of the service-profit chain. Put simply, satisfied, loyal employees create satisfied, loyal customers.
The Evolution of Customer Engagement with Brands
Just two decades ago, shopping took place almost entirely in stores. Customers shopped in malls, not lifestyle centers or online, and that meant shopping was a destination event. It involved a longer visit with stops at multiple stores before settling on what we liked and needed before our time or patience ran out. Retailers who took pride in specialty service kept customer data on 3x5 index cards, organized by salesperson. Along with "How can I help you today?" this was largely what constituted personalized service back in the day.
While some tend to think of the pandemic as the big, disruptive turning point in how customers shop and engage with brands, concepts like shopping online, BOGIS, shipping from store, and others were already growing in popularity well before then. The pandemic simply propelled those trends forward, broadening the omnichannel landscape and fueling a massive growth in e-commerce.
The glory days of malls are long behind us and much of the real estate is being repurposed into lifestyle centers, but that doesn't mean all of today's customers want to shop exclusively online. Instead, consumers are engaging with brands and shopping across channels in entirely new ways, and brick-and-mortar retail stores remain very much alive.
Personalizing the Customer Experience
The diverse needs of today's customers further reinforces how important it is to have knowledgeable and experienced staff in your retail stores and fulfillment centers. As a recent article on 2023 retail trends highlights, personalization of the service experience remains a key customer request for retailers. This emphasis on personalization, both online and in the stores, can be seen specifically in these four trends: 
Personalized experiences get the best results, and that experience must be experiential and frictionless. The article cites research by Twilio, which found that 60% of consumers are more likely to become repeat buyers after a personalized shopping experience with a retailer.
Whether online or in a physical store, shopping needs to be convenient. Customers have no patience for long lines in stores, complicated online checkouts, or missing preferred payment options.
Online shoppers are quick to abandon a purchase if they encounter problems during the checkout process. How quick? The rate for abandoned carts hovers around 70%!
Customers want brands to align with their values and provide stellar service.
With 2023 shaping up to be the year of customization and personalization, here are some of the big questions you now face:
Are your stores staffed with experienced and knowledgeable associates to meet your clients' needs?
Have they been trained and supported to deliver the type of service your clients want and represent your brand?
Are they able to ask open-ended, genuinely interested, and curious questions to determine customers' specific and personal needs?
When you invest in their training, well-being, and retention, it will show up in how they treat shoppers. The more your associates feel they are appreciated and that their personal needs are met—including scheduling, benefits, salary, upskilling, and how they are treated and respected in an inclusive manner—the more engaged they will be on the job, the more they will want to come to work, and the more they will ensure customer needs are met.
Best of all, they will stay longer and gain more experience each day. Your customers will recognize them as a familiar face that they trust and trust with your brand.
The Service-Profit Chain Model in Retail: Digging Deeper
Early in my retail career, a mentor introduced me to the service-profit chain, which demonstrates the connections between profitability, customer loyalty, and associate satisfaction, loyalty, and productivity. As the model describes:
Profit and growth are stimulated primarily by customer loyalty.
Loyalty is a direct result of customer satisfaction.
Satisfaction is largely influenced by the value of services provided to customers.
Value is created by satisfied, loyal, and productive employees/associates.
Associate satisfaction, in turn, results primarily from high-quality support services and policies that enable employees to deliver results to customers.
Whether in a cyber or physical retail space, this model continues to ring true today. The frontline associate, who typically makes the first impression on a customer, is critical to the success of the company, the brand, and your reputation.
Retail leaders who follow the service-profit chain typically engage more with all of their associates, including the frontline store or fulfillment center associates. They engage through open and safe, two-way communication; a sincere desire to understand and help them meet their personal needs and goals; skill development; and coaching. This leads to happier employees who feel motivated to work harder.
Customer Loyalty is Fueled by Engaged Associates, Which Ignites and Sustains Profits
Here are a few tips to engage your frontline cyber and retail associates so that you can attract and retain talent and reap the rewards of the service-profit chain:
Listen to Your Frontline Associates and Value their Feedback
Employee satisfaction propels the service-profit chain. If associates have a complaint or ask for additional resources, try to fill their requests if it will help them be more skillful and engaged in their work. Remember, confidence builds competence and increases associate satisfaction and retention. Use surveys and reviews to gain feedback. And develop leaders who listen and are committed to providing the interpersonal skills and training opportunities their associates need to be most successful. 
Equip Leaders and Associates to Drive Business Results
Make sure your store leaders are taking advantage of the real-time opportunities for coaching and are modeling what associates need to apply to the customer experience to ensure their needs are met. Just as important, leaders should be engaging them in what is happening at the store. The more informed they are, the more information and product and brand knowledge they can share with their customers. And the more involved in the business they are, the more they will feel valued. These are the associates who will stick around longer and create a cadre of loyal customers.
Prioritize Talent Strategy as a Business Strategy
Investing in your people has to be a key pillar of your business strategy in today's retail environment. In addition to teaching them about your products and services, focus on developing the interpersonal skills and behaviors that are fundamental to a superior customer experience. And all of your employees, at all levels, need to be modeling the culture you expect. These aren't just nice-to-haves. This is what builds the confidence, personal fulfillment, productivity, and satisfaction that keeps talent with you—and keeps customers coming back.
Like any important business strategy, this isn't a one-and-done scenario. Provide continuous learning in easily accessible and digestible segments that fit into their workflow. This is how you turn values into behaviors and develop brand ambassadors and client advocates.
In most service jobs, the real cost of turnover is the loss of productivity and decreased customer satisfaction. Loyal associates grow loyal customers who visit often, stay longer (whether in the store or on your site), and buy more.
Retention doesn't happen by accident. Most of your associates will make the decision to stay or go within 90 days of starting the job. Whether they're full time or part time, make those 90 days—and the rest of their career—a journey of learning and improving. It will pay off for you in customer loyalty, results, and profits.
Put simply, invest in your people, and they will return the investment to you.
---
Turn the page on the Great Resignation and make 2023 the year of Great Talent Engagement at your retail stores and fulfillment centers. Get in touch to learn more about retail associate training and to develop a business-focused talent strategy.