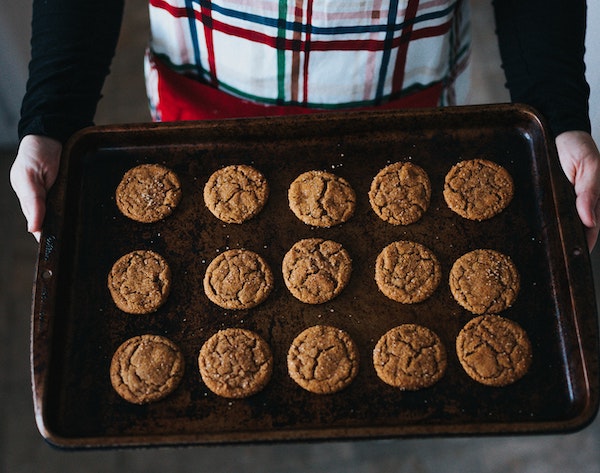 MOHR Retail's Virtual Holiday Cookie Exchange
In our view, it just wouldn't be the holidays without cookies! Thank you to everyone who participated in our virtual cookie swap this year. We can't wait to sink our teeth into these sweet treats, and we hope you'll find some new inspiration to spruce up your holiday cookie tray this year.
(Tip: Most of the titles below are clickable and will take you to the source page for photos and other notes about the recipes.)
Ingredients
1/2 cup vegetable oil
4 oz unsweetened baking chocolate, melted, cooled
2 cups granulated sugar
2 teaspoons vanilla
4 eggs
2 cups all-purpose flour
2 teaspoons baking powder
1/2 teaspoon salt
3/4 cup powdered sugar
Steps
In large bowl, mix oil, chocolate, granulated sugar and vanilla. Stir in eggs, one at a time. Stir in flour, baking powder and salt. Cover; refrigerate at least 3 hours.
Heat oven to 350°F. Grease cookie sheet with shortening or cooking spray.
Drop dough by teaspoonfuls into powdered sugar; roll around to coat and shape into balls. Place about 2 inches apart on cookie sheets.
Bake 9 to 11 minutes or until edges are set. Immediately remove from cookie sheets to cooling racks.
---
Ingredients
3 cups + 2 T flour
1 cup cane sugar
1 cup vegetable oil (e.g., Wesson)
¾ of a bag of good chocolate chips
1 tsp baking soda
1 T vanilla
3 eggs
2-3 shakes coarse sea salt
½ sugar plus 1 tsp cinnamon to sprinkle on top before baking
Steps
Preheat oven to 350. Mix all ingredients in a bowl.
Take a rectangular baking sheet with lip and make 3 loafs 3" wide using the width of the pan. Sprinkle cinnamon sugar mixture over top.
Bake roughly 20 mins or until the cookies are golden brown.
Remove from oven, let cool 5 minutes and then cut the cookies on an angle. Place them on their sides and put back into oven for 10 minutes (or for 5 minutes, then turn off oven and let stay for as long as you can leave them to get them super crispy).
---
Ingredients
Chocolate dough
1 1/2 cups (180g) King Arthur Unbleached All-Purpose Flour
1/2 cup (43g) unsweetened cocoa, Dutch-process or natural
1/2 teaspoon baking soda
1/4 teaspoon salt
1/2 cup (99g) granulated sugar, (plus extra for dredging)
1/2 cup (106g) light brown sugar or dark brown sugar, packed
8 tablespoons (113g) unsalted butter, softened
1/4 cup (67g) peanut butter, smooth
1 teaspoon King Arthur Pure Vanilla Extract
1 large egg
Peanut butter filling
3/4 cup (204g) peanut butter, crunchy or smooth, your choice
3/4 cup (85g) confectioners' sugar
Steps
Preheat the oven to 375°F. Lightly grease (or line with parchment) two baking sheets.
To make the dough: In a medium-sized bowl, whisk together the flour, cocoa, baking soda and salt.
In another medium-sized mixing bowl, beat together the sugars, butter, and peanut butter until light and fluffy. Add the vanilla and the egg, beating to combine.
Stir in the dry ingredients, blending well.
To make the filling:
In a small bowl, stir together the peanut butter and confectioners' sugar until smooth.
With floured hands or a teaspoon scoop, roll the filling into 26 small (1") balls.
To shape the cookies: Scoop 1 tablespoon of the dough (a lump about the size of a walnut), make an indentation in the center with your finger, and place one of the peanut butter balls into the indentation.
Bring the cookie dough up and over the filling, pressing the edges together to cover the center. Roll the cookie in the palms of your hands to smooth it out.
Repeat with the remaining dough and filling.
Roll each rounded cookie in granulated sugar, and place on the prepared baking sheets, leaving about 2" between cookies.
Grease the bottom of a drinking glass, and use it to flatten each cookie to about 1/2" thick.
To bake the cookies: Bake the cookies for 7 to 9 minutes, or until they're set and you can smell chocolate. Remove them from the oven, and cool on a rack.
Storage information: Store leftover cookies, well wrapped, at room temperature for several days; freeze for longer storage.
---
Ingredients
¾ cup shortening
1 cup granulated sugar
1 large egg
¼ cup molasses
2 cups all-purpose flour
1 teaspoon baking powder
1 teaspoon baking soda
¼ teaspoon salt
1 teaspoon ground ginger
1 teaspoon ground cinnamon
½ teaspoon ground nutmeg
¼ teaspoon ground cloves
¼ teaspoon ground allspice
1 cup sparkling sugar
Steps
Beat shortening at medium speed with an electric mixer until fluffy. Gradually add 1 cup granulated sugar, beating well. Add egg and molasses; beat well.
Combine flour and next 8 ingredients, stirring well. Add one-fourth of flour mixture at a time to shortening mixture, beating at low speed after each addition until blended. Cover and chill 1 hour.
Shape dough into 1-inch balls, and roll in sparkling sugar. Place 2 inches apart on ungreased baking sheets.
Bake at 375° for 9 to 11 minutes. (Tops will crack.) Remove to wire racks to cool completely.
---
Dough
½ pound butter
2 cups all-purpose flour
¾ cup sour cream
1 egg yolk
Filling
¾ cup finely ground walnuts
¾ cup white sugar
1 teaspoon ground cinnamon
Steps
Cut butter into flour in a bowl using 2 knives or a pastry blender until the mixture resembles coarse crumbs. Add sour cream and egg yolk; mix well. Shape the dough into a ball. Wrap in plastic wrap and refrigerate, 8 hours to overnight.
Combine walnuts, sugar, and cinnamon in a small bowl.
Preheat oven to 350 degrees F (175 degrees C). Lightly grease 2 baking sheets.
Cut dough into 4 equal pieces. Roll each piece into a 1/8-inch thick circle on a lightly floured surface. Spread 1/4 of the walnut mixture on each circle; cut each circle into 12 wedge-shaped pieces with a pizza wheel.
Shape each piece of dough into a crescent by rolling dough from the wide end of the wedge into the center. Transfer cookies carefully to the baking sheets.
Bake in the preheated oven until golden, 20 to 25 minutes. Watch cookies carefully as they bake; their bottoms tend to brown faster than their tops.
---
Mom's Potato Chip Christmas Cookie Recipe
Ingredients
¾ C Margarine
¾ C sugar
1 tsp vanilla add 1 egg and mix
Sift 1 ½ C flour
1 tsp baking powder
Add to mixture, then add ½ C angel flake coconut
1 C crushed potato chips
½ C nut meats (optional)
Steps
Chill dough (overnight if you wish or a couple of hours at least).
Make into balls, flatten with fork and place on ungreased cookie sheet.
Bake at 370 degrees for 10-12 minutes; ice or use sprinkles for holiday.
Makes 3 dozen.
---
Snickerdoodles
Ingredients
1 C. vegetable shortening (I used butter-flavored Crisco) (My mom's note)
1 ½ C plus 2T sugar (divided)
2 eggs
2 ¾ C sifted four (sift before measuring)
2 t. cream of tartar
1 t. baking soda
¼ t. salt
2 t. cinnamon
Steps
Preheat the oven to 400 degrees.
Beat with mixer shortening and 1 ½ C. sugar until well combined. Add eggs and beat until light.
Sift together flour, cream of tartar, baking soda and salt. Stir into the sugar mixture. In a small bowl combine remaining 2 T. sugar and cinnamon.
Roll dough into balls the size of small walnuts. Roll each ball in cinnamon sugar. Place 2 inches apart on a cookie sheet. Bake for about 8 to 10 minutes or until lightly brown. Makes 5 dozen.
---
Ingredients
1 ¼ cups yellow cake mix
¼ cup packed brown sugar
½ cup butter flavored shortening, at room temperature
1 egg
1 teaspoon vanilla extract
¼ teaspoon almond extract
¼ cup dried cherries
¼ cup white raisins
¼ cup chopped dried apricots or pineapple
¼ cup chopped walnuts
¼ cup chopped almonds
¼ cup chopped pecans
Steps
Preheat oven to 350 degrees F.
In a large bowl, blend cake mix, brown sugar. Add to dry mixture, the shortening, egg, vanilla and almond extract. Fold in cherries, raisins, apricots or pineapples, walnuts, almonds, and pecans or your favorite nut. Blend mixture well.
Drop cookie dough (dough should be sticky, doughy, not too wet), if too wet add a couple of spoonfuls of leftover cake mix to give it the right consistency) by spoonfuls, about 2 inches apart on an ungreased cookie sheet.
Bake for 15 to 20 minutes or until golden brown.
Tip: About 1 minute before cooking time is reached, pull cookies out of oven, they will continue to cook for about 1 minute on hot cookie sheet and begin to cool, creating their own cake like color. Cookies can be refrigerated and served at a later time, or put in the freezer. To freeze, wrap cookies tightly in freezer wrap, heavy-duty aluminum foil or plastic freezer-safe bags. Freeze up to 2 months. Bring to room temperature for approximately 45 minutes before serving.
---
Ingredients
1 cup unsalted butter, softened, cut into pieces, plus more for greasing
2 cups all-purpose flour
½ cup granulated sugar
1 tsp. pure vanilla extract
½ tsp. fine sea salt
Steps
Preheat oven to 350°. Grease a 9-inch square baking pan with butter. Line bottom and sides with parchment paper, leaving a 1-inch overhang on all sides. Set aside.
Beat butter, flour, sugar, vanilla and salt with a stand mixer fitted with a paddle attachment on low speed until mixture is well-combined and just beginning to come together, 45 seconds to 1 minute.
Using your hands, press dough evenly into prepared pan. (If mixture is too sticky, place a sheet of parchment paper on top of dough, and press into pan. Remove parchment before baking.)
Bake until edges are golden brown, 30 to 35 minutes. Remove from oven, and cool completely in pan, about 1 hour. Using parchment paper as handles, lift biscuits from pan. Cut into 18 rectangles.