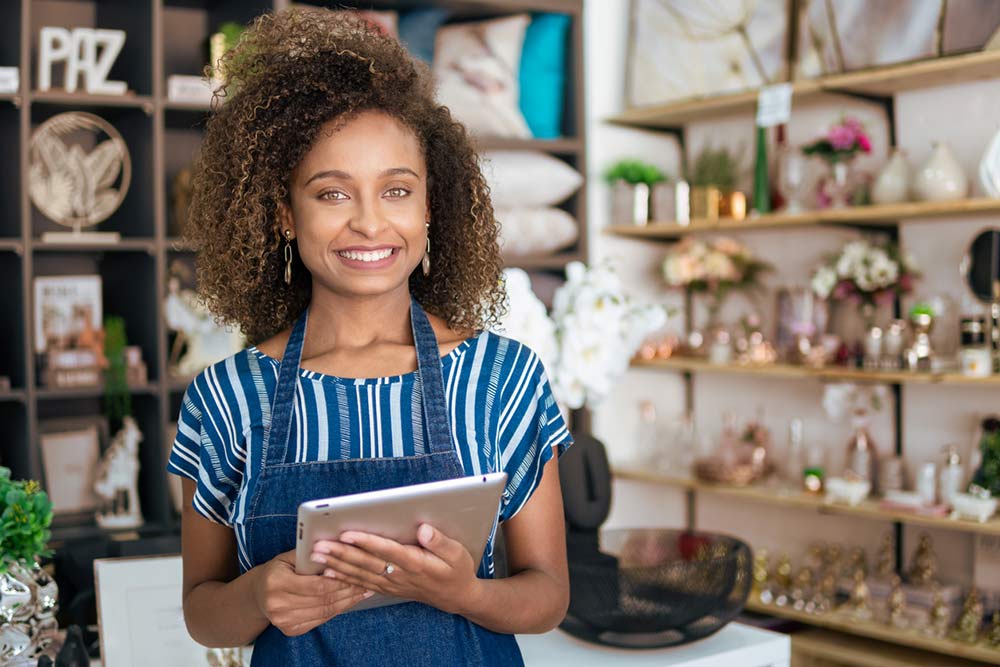 Making Sure Retail Training Delivers Sustained Business Impact
When your retail leaders and team members complete training, whether it's on-the-job, e-learning, classroom-based, or a blend, there's a sense of accomplishment. They've checked the box and completed the event. However, that doesn't necessarily tell you what they now know. Do they have the knowledge they need to be successful on the job? Will they apply what they've learned? How will their behavior change? Just as important, what happens a year down the road? Are they retaining the knowledge? What do they know now? Did the learning stick?
In fact, research shows that, without reinforcement and manager involvement, just 16-24% of participants will actually use what they learned back on the job. On the other hand, when they have some kind of regular reminders or questions by their manager, that percentage skyrockets to more than 85%.
There's a tremendous amount of value that comes from understanding the capability of your workforce and knowing what people know now so that you can more effectively coach people and more effectively put people in the right positions based on their strengths. Understanding how knowledge changes over time is a critical part of upskilling your workforce.
In a webinar we conducted earlier this month, JD Dillon, Chief Learning Architect with our partners Axonify and the author of "The Modern Learning Ecosystem," emphasized how important learning enablement and reinforcement are for getting a full return on your training investments. Together, we explored some of the key insights from Axonify's science-backed approach to reinforcement and the lessons we've gained at MOHR Retail from our 40 years of working with retail organizations to achieve sustainable learning and business results.
What follows are some key takeaways from that discussion. You can also access the full webinar recording here.
Why it Pays to Invest in Retail Training
As JD points out, we underestimate the value of investing in frontline workers, often because we assume that they're going to leave. With notoriously high turnover rates, many retailers do the bare minimum to get people up and running. What they fail to recognize is that strategically investing in your team's development will drive the business outcomes you're trying to achieve, from improving sales and customer experience to time to effective performance and other KPIs.
There's another benefit to investing in people, particularly in the context of how retailers are struggling to attract, engage, and retain great talent. One of the things people consistently say they're looking for is opportunity within a job. They want to work somewhere that offers them the chance to do different things, to grow, and to potentially pursue a career.
This also factors into another big consideration for retailers, which is bench strength. To shore up the leadership pipeline, we have to focus on building the next set of store managers and assistant managers, and that requires meaningful investment. It requires engaging the frontline workforce and helping them continue to develop on the job.
"But we need to do it from a strategic perspective so we know we're getting value out of that investment and not learning for the sake of learning or training for the sake of training," JD emphasizes.
The big takeaway: We need to implement outcomes-focused training and be able to show that it's helping our business get the results we need to achieve through the capability and execution of our frontline teams.
7 Strategies for Increasing ROI of Retail Training
The bulk of our webinar discussion was spent on specific strategies you can implement to ensure people are continuing to build their skills and knowledge and retain what they've learned. For more on these strategies, be sure to download our ebook, 7 Ways to Turn Training Concepts into Daily Habits.
Keep senior leaders involved.
Throughout our decades of working with retailers on their learning strategies, we've consistently seen that senior leadership involvement makes a huge difference. When senior leaders are engaged in the training themselves, understand why it's important, and truly support it by modeling it in their own behaviors, the concepts are much more likely to become cultural standards.
We recommend conducting a special executive session for senior leaders to help them understand their critical role in reinforcement as well as ensure they model the language and skills in all meetings, communication, and quarterly reviews, and adopt the appropriate behavioral style whenever possible. This is key to getting people engaged and believing that their boss supports them.
Provide on-the-job tools.
Real-time learning is critical in a fast-paced environment like retail, and that's one of the big advantages of the Axonify mobile app. It not only reinforces learning in the moment, it also makes it fun! For months after the initial training, retail leaders are able to continually play games that stretch their brain as the questions to get harder and harder.
As JD puts it, the idea is that it's putting help in your pocket: You have the assistance that you need to be able to do your job and improve your ability to execute every shift right there with you on a device like a tablet or your personal smartphone. And if you log in for just a few minutes a day, you can keep getting a little bit better every day.
The same system gives your manager data and insights about where you're struggling and where you're succeeding so they can have a more informed coaching conversation with you and help build confidence in your ability to apply what you've learned.
Hold people accountable.
Frontline leaders are an essential part of any training strategy in retail, because they're the ones who are there and can see application of knowledge and skill on the job every day. Accountability is one more area where their involvement is key. Not only do managers have to set the standard, they have to look at the data, understand how to coach to it, and then pinpoint where to focus to help people live up to what's expected of them.
It's important to recognize that accountability isn't going to happen in a vacuum. To be most effective, you have to incorporate interpersonal skills and performance strategies from the training into your job descriptions, performance reviews, and evaluation processes. When you align the learning concepts with all the rest of your internal processes, you'll be able to create a comprehensive system for greater accountability and regular evaluation of skill use.
Accountability works hand-in-hand with career pathing and on-the-job training that helps people get to the next level. Behavior change starts when they have the opportunity to practice in a safe environment. Those who are looking for a potential future with your organization want that accountability and feedback so they can course correct and continually grow.
Measure for continuous improvement.
Many organizations are obsessed with their top performers, leaning hard on them — sometimes to the point of burnout — while looking for ways to replicate those unique individuals. JD argues that we need to stop trying to replicate them and instead focus on understanding how people are improving as they progress in their own learning journeys.
"Maybe you've worked in retail for 20 years — you're going to be at a different level than someone who maybe this is your first job," he says. "So we're going to change the [reinforcement] experience and help you progress at the pace you're capable of and the pace the business needs you to move."
When you have that data and can personalize the reinforcement and get the manager involved at the right time, you help everyone raise the bar. It's about fostering a learning environment rather than a proving environment — by holding people accountable to metrics that are realistic and helping them see how they're getting better and better.
Consider coaching and leadership training.
It's difficult for our leaders to coach if they're on the floor from 10 to 12, the second set comes in at noon, they get their lunch, and by the time they get through the rush there's very little time left. This is why it's so important to have that that human interaction and reinforcement, to observe behaviors and then be able to give them real-time coaching and feedback.
And coaching doesn't always have to mean leadership. People who are not in leadership roles but may be aspirational leaders can become coaches on the floor, for example, via a buddy system. Likewise, leadership training doesn't have to be reserved just for leaders. It's also valuable for getting someone ready for that next role, making them a better team player, and developing a higher performing associate who can support everyone and build their influence.
As JD points out, half of retail managers are burned out on a daily basis, so you cannot ask them to do more than they're already doing. It's important to think about how we can simplify the manager workload and take something off of them so they can be more focused on taking care of and enabling their people.
Let them teach to learn.
We're big proponents of this concept at MOHR Retail, because if people are teaching others and are modeling the skills in the process, it makes their own performance better. For example, one of our clients implemented Retail Store Leadership (RSL), certifying hundreds of their own people as trainers to deliver the leadership training to their store leaders. As they've tracked promotability among the trainers, it's clear that this has served as ongoing development for them.
Not only is this cohort developing other leaders in their organization, they have accelerated the behaviors they know they need to demonstrate. Because if you're going to teach it, you need to preach it and you need to model it.
Celebrate successes.
It's so important to share the success stories — and share them broadly, whether it's in bulletin boards, the bathroom, a district newsletter, or an email from a district manager. Talk about the corporate visit that happened in the store, recognize people by their name, and celebrate the success they're having.
JD points out that appreciation comes up regularly in their research as one of the reasons that people stay. And one of the reasons people leave is lack of appreciation from the company and their manager.
"I like to remind retailers that none of your associates work for your company. They work for their manager and their store," he says. "Fostering community and fostering a culture of appreciation and recognition­ — that's another place where you have to enable the manager to be capable of doing that."
Continual Learning in the Cadence of Retail
As we all know, the retail day can be incredibly hectic. Retail leaders and associates rarely have the opportunity or the inclination to take time out and sit at a computer and pull up a 20- or 30-minute learning module. And mindlessly clicking through screens isn't going to do much for their knowledge growth and retention anyway.
The power of a reinforcement experience like Axonify's app is that it's three to five minutes of real-time learning on your device that adds up over time. What's more, this approach aligns with how people actually learn, because we can only take in and retain so much information at a time.
"We leverage that reality of learning science to create an experience that fits into even the busiest retail associate's day," JD explains. And because they can pull it up right when they need it, "they can get these quick bites that they're able to apply on the job right away."
This is how skills and processes become habits.
Getting Buy-in For Retail Training
Many retail executives balk at the idea of training because they're locked into a perspective that learning has to be disruptive, that it means taking people away from the job for extended periods and then not necessarily getting any kind of sustained impact from that absence. In addition to providing a learning journey that fits within the realities of retail and is designed to provide strategic business impact over the long term, JD suggests talking with senior managers in a language that speaks to the outcomes they care about.
"More times than not, I'm not talking about learning," he says. "I'm talking about behavior change, about helping people make good decisions, and I'm always talking about doing it in the most non-disruptive way possible. I have never had a problem when I walk into a conversation with a retailer and say, 'What if I could get your frontline team to execute the way you want them to do their job every day and do it in a way that doesn't disrupt your operations?'"
That's a conversation that gets their attention — and gives you the opportunity to discuss what sustainable knowledge development and growth will do for the business.
---
Get in touch with us to learn more about the Axonify platform and how to align your retail training initiatives to deliver measurable business impact.